[ad_1]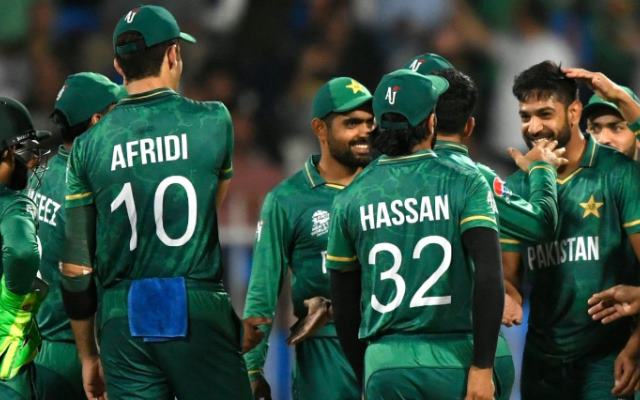 Pakistan Cricket Board (PCB) on Thursday (January 7) announced the annual awards for the year 2021. The year gone by was indeed a special one for Pakistan as they recorded some spectacular wins over the 22 yards. In fact, the Men in Green also registered a historic 10-wicket triumph against arch-rivals India in the T20 World Cup. This was Pakistan's first-ever win for India in World Cup events.
In fact, Pakistan won a total of 20 T20Is this year, most for any team in a calendar year. Besides this, there were some notable individual performances as well. While Babar Azam and Mohammad Rizwan piled up a mountain of runs, Hasan Ali and Shaheen Shah Afridi made the ball talk.
The stellar efforts of all these players were acknowledged in the PCB awards 2021. Mohammad Rizwan bagged the Most Valuable Cricketer of the Year award for scoring 455 Test, 134 ODI and 1,326 T20I runs. Not to forget, he accounted for 56 batters behind the stumps across all formats.
While Hasan Ali won the Test Cricketer of the Year for his 41 wickets in nine Tests, skipper Babar Azam clinched the ODI Cricketer of the Year award for slamming 405 runs in six ODIs. Shaheen Afridi's 3/31 against India in the T20 World Cup 2021 earned him the Impactful Performance of the Year award.
Meanwhile, young pacer Mohammad Wasim Junior received the Emerging Cricketer of the Year for bagging 15 international wickets in 2021. The Domestic Cricketer of the Year award was bagged by Sahibzada Farhan for his stellar show in domestic cricket.
PCB Awards 2021:
Impactful performance of the year – Shaheen Shah Afridi (3-31 v Ind, T20 World Cup)
Emerging Cricketer of the Year  – Mohammad Wasim Jnr (15 international wickets, seven Pakistan Cup wickets, 12 HBL PSL 2021 wickets, five National T20 wickets and six Quaid-e-Azam Trophy wickets)
ODI Cricketer of the Year – Babar Azam (6 ODIs, 405 runs)
Women's Cricketer of the Year – Nida Dar (10 ODIs, 363 runs and 6 wickets; 6 T20Is, 95 runs and 5   wickets; 146 runs and 14 wickets in Pakistan Women's Cup)
Test Cricketer of the Year – Hasan Ali (9 Tests, 41 wickets, 5 five-fors, 1 10-for, best match figures 10-114)
T20I Cricketer of the Year – M Rizwan (29 T20Is, 1,326 runs)
Spirit of Cricket – Pakistan cricket team's visit to the Namibia cricket team's dressing room following their 45 runs victory to congratulate the Namibia side for qualifying for their maiden ICC Men's T20 World Cup 2021 and then progressing to the Super-12 Stage
Umpire of the Year – Asif Yaqoob (selected by the PCB's elite match officials)
Domestic Cricketer of the Year – Sahibzada Farhan (1,869 runs in Pakistan Cup, National T20 and Quaid-e-Azam Trophy)
Most Valuable Cricketer of the Year – M Rizwan (9 Tests, 455 runs; 6 ODIs, 134 runs; 29 T20Is, 1,326 runs; total dismissal 56)
[ad_2]

Source link